Era Kitchen & Bath: The Best in Falls Church for Remodeling Your Bathroom or Kitchen
Are you in the market for a new kitchen or bathroom? If so, look no further than Era Kitchen & Bath. We are the top choice in Falls Church for kitchen and bathroom remodeling projects. Our team of knowledgeable designers will work with you every step of the way to ensure that both your remodeling needs and style are met.
You'll be able to choose from any design we offer (we have hundreds!), knowing it will be functional enough for your lifestyle. Plus, we always stay within budget!
When you work with a company that specializes in design and installation, you'll get professional advice on how best to use your space as well as expert help in choosing the right materials for your home, this is why Era Kitchen & Bath is the right place to come in 22040.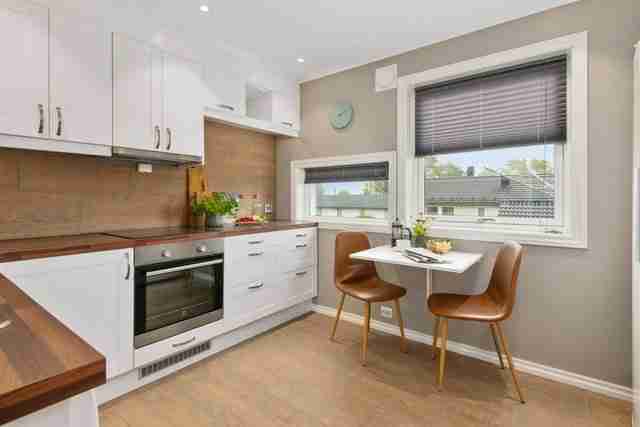 Era Kitchen & Bath: Homeowner's Best Choice in Falls Church, VA
We specialize in all aspects of kitchen renovation, from design to installation, and offer a wide range of styles to choose from. Plus, our customer service is second to none – we guarantee your complete satisfaction with all of our work. You'll be amazed if you discover that Era Kitchen & Bath is is the solution to your kitchen and bath design needs in 22040.
We offer customers the perfect place to go – our showroom, so let us help you with your future projects! You can trust us as your local kitchen remodeling contractors! Whether you want a modern or traditional look, we will do what it takes to give you complete satisfaction guaranteed!
We Offer Efficient Design Ideas to Maximize Your Space
If you're feeling cramped in your kitchen, you're not alone! Many homeowners find themselves struggling to make the most of their limited space. But don't worry – we have some great ideas for how you can maximize your kitchen's potential.
Whether you're looking for a new layout or just need some inspiration, our kitchen and bath design ideas will help you create a space that is both beautiful and functional. We provide efficient kitchen and bathroom design ideas at an affordable price with high-quality products, which means you don't have to break the bank in order to get what you want! Our designers will work with you on an individualized design plan that suits your specific needs and tastes and we guarantee a smooth process for your remodeling project.
Era Kitchen & Bath: Your One-Stop Showroom for Bath and Kitchen Remodeling
We offer an unrivaled variety of goods and services, all at rates that are tailor-made to your budget. From kitchen countertops to cabinets and more! You can find any type and style of product in our showroom! Plus, our team of experts is always on hand to help you find the perfect solution for your needs. We're committed to providing quality service and making your remodeling experience as smooth and stress-free as possible!
Era Kitchen & Bath Provides Premium Remodeling Services in Falls Church!
We want you to have a dream kitchen remodel! We understand how daunting it may be to plan out your ideal kitchen from the ground up, so we provide our professional designers. We are proud to offer our customers in the Falls Church area the best quality remodeling services possible. Whether you're looking for an all-new kitchen or just some updates to your current one, we have many different options that will suit any taste!
Give Your Dream Home the Remodel It Deserves!
Don't feel bad if you've been wanting to remodel your home for a while now, but just haven't gotten around to it. Many people put it off because they think that it's going to be such a hassle, or that it will be too expensive because home remodeling such as kitchen and bathroom remodeling is hard to handle.
But what if we told you that there was a way to remodel your home without having to spend a lot of money? And what if we said that the process could be fun and exciting? A consultation will start with a discussion about your requirements and demands, followed by measurements of the area, and a follow-up appointment to learn more. You won't have to worry about a thing since our experts are specialists in their areas!
Era Kitchen & Bath: Find The Inspiration You Need
Era Kitchen & Bath has everything you need to get started. Our gallery is full of beautiful ideas for every style and budget. Whether you're looking for a new bathroom or want to create an open concept living space, we can help. With our latest in design trends, you'll find everything you need right here at Era Kitchen & Bath!
It can be difficult to choose the finest design, layout, and features for your area. Era Kitchen & Bath has licensed remodelers who can assist you in finding the ideal stone worktops or cabinets for your area, designing a new cabinet or bathtub area to fit the available space, finding a beautiful tile design to match current tiles, or creating something completely new for you.
Remodeling Specialists in Falls Church
Are you considering a kitchen or bathroom remodel? If so, you should consider Era Kitchen & Bath. We specialize in remodeling and can help you with every step of the process. We are professional and experienced remodelers who can help you choose the perfect countertops and cabinets for your space, design a new cabinet or bathtub area that will fit the space available, find a beautiful tile design to match existing tiles, or create something completely new for you. We want to make your renovation as easy and stress-free as possible!
You Can Trust Us!
If you're looking for a reliable and experienced team of remodeling contractors, then Era Kitchen & Bath is here for you! We have been renovating kitchens and bathrooms for years, and we know how to take care of all the details so that you can relax and enjoy your new space.
We understand that remodeling can be a big investment, which is why we work closely with our clients to ensure that they are happy with the timeline and cost of the project. If you have any questions or want more information, don't hesitate to get in touch with us!
We can Provide Professional Services for All Your Home Needs
We specialize in interior design and renovation at Era Kitchen & Bath. Era's design team will collaborate with you to design a custom-built kitchen or bathroom that is ideal for your house. When you work with us, you'll get the benefit of decades of interior design expertise paired with the best quality materials on the market today. We're the experts when it comes to creating stunning kitchens and bathrooms in 22040. We know what we're doing, so trust us!
Improve Your Home with Era Kitchen & Bath: Professional Designers
If you're like most homeowners, you probably spend a lot of time in your kitchen and bathroom. These are two of the most important rooms in any house! That's why it's important to make sure they look their best. The team at Era Kitchen & Bath can help you do just that. We specialize in designing beautiful kitchens and bathrooms that will perfectly match your home. We have years of experience in this field and we know what we're doing!
To learn more about how an improved kitchen or bathroom can help increase the value of your property, don't hesitate to give us a call today!
Era Kitchen & Bath: Expert Design Services in 22040
If you're looking to remodel your kitchen or bathroom, then Era Kitchen & Bath is the perfect company for you! We provide expert design services in San Rafael and we want to make sure that your experience with us is a positive one.
Our team provides all aspects of remodeling, from flooring installation to bathroom and kitchen upgrades. We know how important it is for our homeowners to be confident in their investment, so leave it to us and rest assured that the job will be done right!
Our Team Will Get Your Kitchen in Tip-Top Shape!
Our team of experienced professionals will get your kitchen in tip-top shape. We understand that remodeling a kitchen can be a daunting task, but with our help, it can be a breeze!  When it comes to renovating your kitchen or bathroom, you want the process to be as simple and trouble-free as possible.
That is why we've developed a simple approach that will enable you to build the kitchen or bathroom of your dreams with minimal stress! Whether you're searching for a product that fits your needs precisely, has all of the answers to all of your questions, or are simply getting started on a project; our showroom has everything you need to make your ideal kitchen or bathroom come true.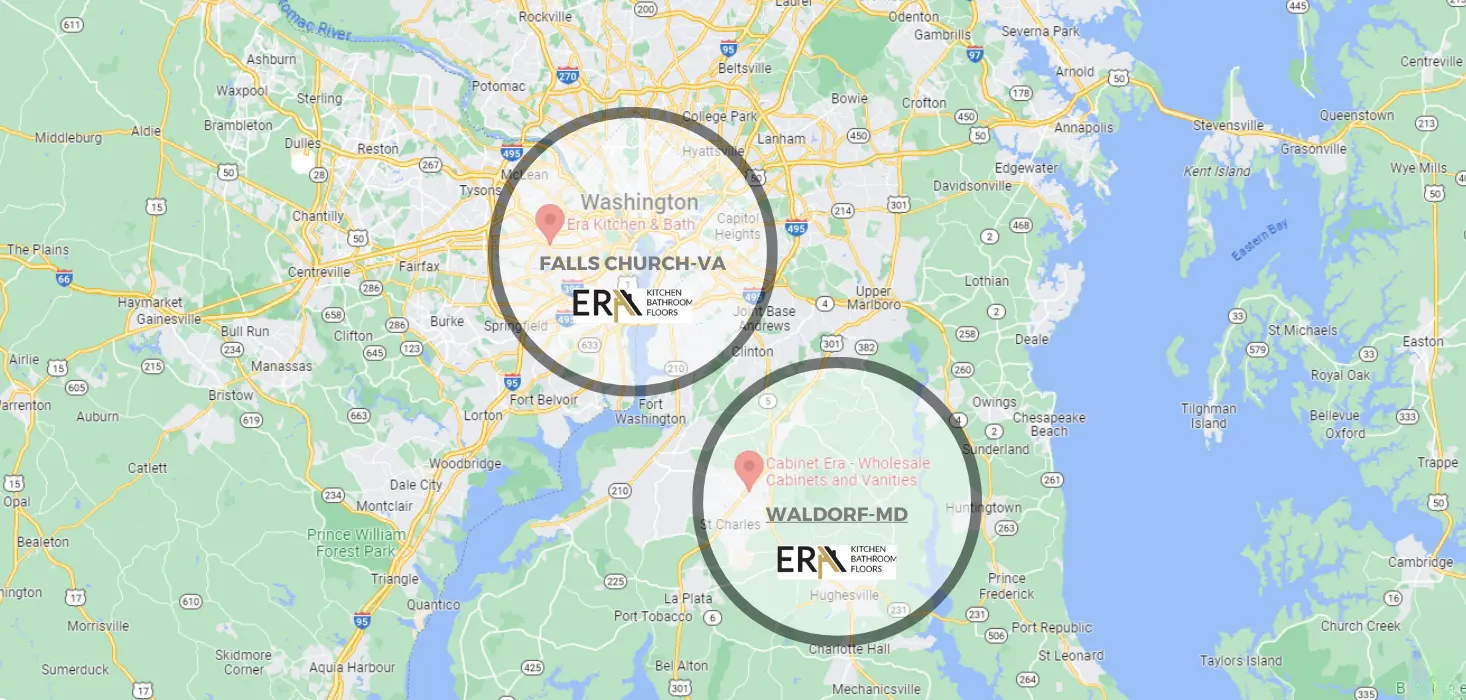 SERVICE AREAS
Era Kitchen
&

Bath: The Finest Services in Falls Church